The Rise of Belonging Brands
Ken Fortney
Brand Community Marketing
5
MIN READ
What if you could build a brand so strong that people felt a sense of identity and personal fulfillment simply by mentioning your brand or buying your product or service? This is already happening among a group known as belonging brands.
Brand belonging is the ultimate form of passionate customer loyalty.
Recently, IBM iX did a study all about brand belonging. It measured brand belonging by both individual and collective drivers. These drivers centered around feelings of connection, trust, community, purpose, life enrichment, empathy, and delight. Brands who tapped into these emotions showed up as top performers on IBM's Brand Belonging list. The payoff? These top performers grew revenue over six years at three times the rate of the lower-performing brands. Wow – belonging matters. (Source: Emotive Brands)
Creating brand belonging is critical to your Community Commerce strategy, an approach to brand marketing that heavily diversifies paid ad spend in favor of more affordable, longer-lasting growth.
What is a Belonging Brand?
A belonging brand is any brand that nurtures a sense of individual and collective purpose among members of their audience.
Brands that leverage brand community marketing seek to become belonging brands. These fans and customers feel a unique sense of empowerment and community simply by aligning themselves with that brand.
Source: IBM
You can see examples of brand belonging among large "cult" brands, such as Apple users and Subaru drivers. But some of the most powerful belonging brands are much smaller, though their organic presence and growth appears massive within niche groups.
What Does It Take for Brands to Create a Sense of Belonging?
"Brands should create spaces, experiences, products, and services that deliberately foster the conditions for diverse people coming together in respectful environments for shared experiences." - Sebastian Buck, Fast Company
People don't buy products and services - they seek status, fulfillment, security, and a deeper sense of meaning. That's why leading marketers are deeply familiar with Maslow's hierarchy of needs. This psychological foundation to great marketing recognizes that once a person's basic needs are met, they have the mental capacity to invest in self-actualizing activities, such as relationships, wealth, creativity, and more.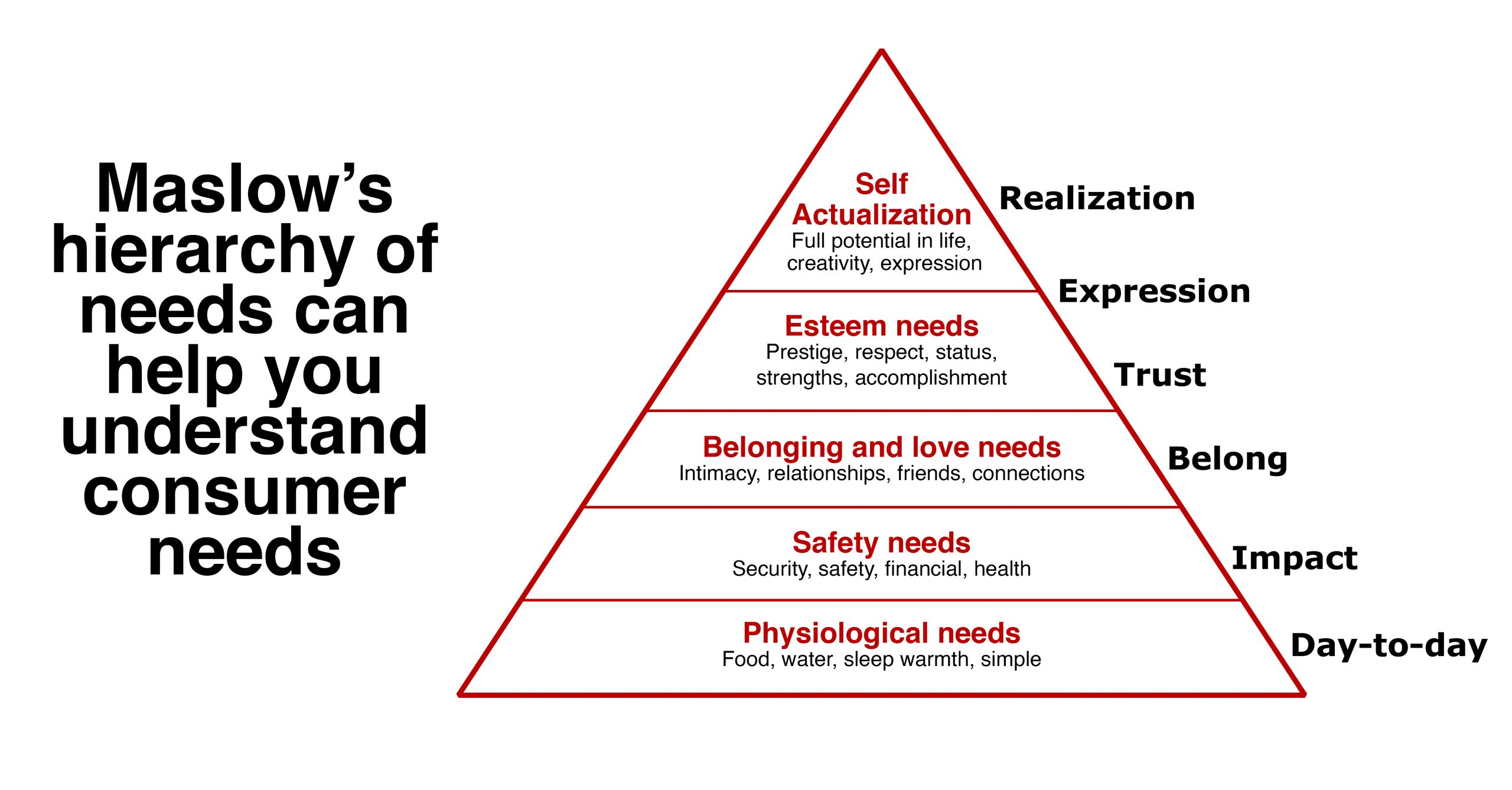 Source: Beloved-Brands.com
Marketers and entrepreneurs who master brand belonging understand that there is greater ROI to this approach than traditional marketing and advertising. However, to achieve it, they embrace a more altruistic mindset. In many cases, these visionaries sacrifice short-term gains for long-term rewards, and they care deeply about the wellbeing of their target customers.
Source: IBM
If you're curious about how you can upgrade your brand to build this powerful sense of belonging with customers, here are a few questions to get you off to a great start.
Does Your Brand Offer Purpose?
If your brand exists (which it obviously does), then it has a deeper purpose - whether or not you see it.
Your mission and vision statements (if you have them) usually uncover that deeper purpose right away. But even after establishing your mission and vision, you should still revisit them periodically to see if you and your best customers are on the same page.
To dial this piece in, make some time to talk to customers that "get" your brand. By letting them describe why they love your brand in their own words, your brand's bigger purpose will become clear.
Again, think beyond the thing you sell and try to understand why certain people come to you over anyone else. If you listen carefully, you'll uncover the parts of your brand that make your customers feel empowered. That's your brand's magic fairy dust.
Does Your Brand Encourage Connection Among Members of Your Target Audience?
Another thing that belonging brands do so well is energize like-minded people to come together. Encourage your best customers to connect with each other. You can do this by creating think tanks, fan pages (your social media presence can act as your fan pages, so make sure that you're building that out with fresh content), and creating physical/virtual hangout spots.
Do Your Employees Feel Like They Belong Just as Much as Your Customers?
A lot of brands completely forget about the fact that enthusiastic employees are some of the best brand advocates. It's critical that you take care of the people who work for and with you.
When your employees feel and embrace your brand's sense of purpose, they will feel like they belong, and those sentiments will overflow onto your customers and prospects.
Does Your Brand Offer Value (Perks, Experiences, etc.) Everywhere It Can?
While no one expects you to give away everything for free, repeat buyers are attracted to brands that know how to leverage every customer touch point as an opportunity to add value. This business mindset is all about providing a unique customer experience.
If customers love something about your brand that requires moderate to no effort/cost, simply give it away. Encourage sharing and gifting where it makes sense to do so. Maintain a healthy pricing strategy that allows you to do more for your customers.
Sometimes, it makes sense to ask for something in return from your customers and fans. For example, give discounts and loyalty rewards to people who give you their email, follow/tag you, phone number, etc. This customer information lets you personalize offers and products to those who want to stay connected to your brand.
Do You Nurture Brand Community Led by Community Influencers?
At a certain point, it's not feasible to manage consumer communities yourself. You will need to delegate brand community groups to those who are masters at nurturing community. And that's where community influencers come in.
This is essentially Brand Community Marketing 101...
You have two key roles here:
Brand advocates: Everyday repeat buyers, social followers, etc.
Community influencers: Brand community leaders you equip to build this sense of belonging
(For a fuller guide on launching your own brand community marketing program, check out this blog here.)
When looking for the right community influencers, don't get sucked in to high follower counts. Instead, look for people with actual influence (those with more than 500 followers matching your buyer persona) who already buy from or follow you online.
Great Examples of Belonging Brands
F45 Training does so many things well, including sponsored competitions for their members, a vibrant social media presence, and strong support for their personal trainers.
The brand doesn't just add new members to their roster, they invite them into community engagement and offer unique fitness experiences that they can't get anywhere else. These include a hybrid home-studio workout program, proprietary 45-minute intense workout routine, exclusive wellness education, and interactive inspirational initiatives.
Example #2 - GoPro
Originally intended to be a camera brand exclusive to surfers, GoPro is one of the most popular pieces of equipment for athletes, travelers, and more.
The brand owns nearly 100 hashtags, leverages their community to offer pro tips, and awards those who capture amazing shots using their GoPro cameras. It also leverages community influencers around the globe for a powerful organic, online social presence.
Beats By Dre does all the classic brand community tactics - influencers, giveaways, virtual hangouts, etc. - but what really sets them apart is their co-branding product development strategy. To deliver the most customer-centric experience, they invite consumer community leaders and well-known influencers to help them design and launch new product lines.
The result is always a new type of headphone or earbud that fits a niche lifestyle. Beats By Dre can deliver personalized product quality unlike any of their competitors. More importantly, customers feel welcomed and enriched to become a part of this dynamic brand.
Why is Brand Belonging Critical for Community Commerce?
"At the core, cultivating belonging is about connecting with relevant communities at the community level rather than the individual level to drive short- and long-term marketing impact and value." - Andrew Bateman, Forbes
In Community Commerce, you don't shove your brand in the faces of those who don't know or trust you. This is the classic fail among marketers who lean on paid ads to generate the bulk of new customer acquisition.
Rather, you can save your money, build relationships with your best customers, and equip them to drive vibrant word-of-mouth online. This approach isn't just more affordable, it's the best way to generate positive ROI in the here and now while also building a legendary brand that everyone wants to be a part of.
In Conclusion
Building brand belonging is doable for any marketer and entrepreneur who cares about their customers. Millions have already done it, and millions more will as younger audiences grow more determined to support value-driven brands.
Results won't just be greater profits for your business, they will include wonderful intangibles, such as community, better well-being, and genuine joy for you, your employees, and your customers.