Community Commerce: What is it?

Growson Edwards
Community Commerce
7
MIN READ
"When big brands stopped spending on digital ads, nothing happened," says Forbes, after several consumer goods brands (eBay, Uber, P&G, to name a few) radically decreased their programmatic spend.
More recently, Bryan Porter, Co-Founder of DTC brand Simple Modern, went viral on Twitter after demonstrating similar results when cutting off Amazon advertising.
What is happening?
Community Commerce, that's what's happening.
More than ever before, buyers want to connect with each other over shared likes, dislikes, and - surprise, surprise - brands they buy from. Community Commerce is the antithesis of paid media, where large budgets try to tip the scales in their favor without having to put forth the effort to connect with members of their audience.
We can thank a global pandemic in part. But even before COVID-19, social commerce was on the rise, along with brands bringing their influencer partnerships in-house for more authentic product endorsements.
"All these point to a rise in community commerce, a new business model that has emerged as a result of the ECQ [enhanced community quarantine when COVID-19 spread]. I observed and studied this phenomenon at the onset of the ECQ, when residents in our community were struggling to look for food supply and alcohol and turned to 'virtual communities' in Viber or Facebook to reach out to 'friends'." - Institute for Digital Transformation
Word-of-mouth is more powerful than its ever been. Anyone can make a post that goes viral, and humble content creators go from 100-100,000 engaged followers in the space of a few weeks.
People buy, then people talk about it. Likeminded buyers flock together and are not ashamed to take product recommendations from each other, even when a brand recommendation post carries #sponsored.
What Community Commerce shows us is that when people feel connected, they don't just listen, they take action. That's why not just any brand can "make it." That's why ROAS is crashing.
What is Community Commerce?
Community Commerce is a strategy that brings people together around shared values and goals for genuine connection, relevant content, and a more fun and trusted buying experience.
While search engine, eCommerce, and social media technology make Community Commerce possible (to the degree it is), the magic of this strategy is people's sense of community. And that sense of community can exist vibrantly in person or online.
Source: WARC/TikTok/Publicis Groupe
"Community is a powerful force in social commerce, and community commerce in particular, providing a space where creators and brands can build the high levels of engagement that drive inspiration and purchase. Creators boost discovery, motivate audiences to try new products, and help make a brand relatable." - WARC/TikTok Industry Report
In Community Commerce, brands that listen carefully to their audience and make themselves available to that audience become active community members. As a recent phenomenon, forward-thinking marketers are already finding ways to leverage Community Commerce for powerful organic growth.
Why is Community Commerce Important?
Advertising costs are rising dramatically for B2C (business-to-consumer) brands, and the number and quality of ad impressions are falling. Research supports radical shifts in marketing dollars away from traditional ad spending.
99.53% of impressions on digital advertising fail to inspire consumers to click and take action. (

Smart Insights

)
Nearly 50% of consumers deploy ad blockers because they believe ads to be "irrelevant and annoying." (Business Insider

& GlobalWebIndex

)
As brands diversify their ad spend, they are looking to connection-driven marketing tactics to grow organically, lower their customer acquisition costs, increase conversions, and extend customer lifetime value.
It's not a question of if brands should embrace Community Commerce - it's a question of if brands can compete without it.
Source: WARC/TikTok/Publicis Groupe
Thankfully, most B2C brands incorporate online selling (eCommerce) into their business model in 2022. Additionally, social media is free for brands to connect with buyers online in a meaningful way. Whether brands realize it or not, they have a community of customers, followers, employees, and partners who love them. Brand communities become the foundational building blocks to launch a Community Commerce strategy.
Who are the Key Players in Community Commerce?
In the age of artificial intelligence and machine learning, the human touch often feels in short supply. People can leverage modern-day automation and find the extra time and energy to connect. These connections exist among four key players:
Brands
Brand Communities
Creators
Consumer Communities
Brands
A brand - made up of emotionally-intelligent founders, marketers, sales teams, customer service agents, and more - serve niche audiences with a solution to a specific set of problems. Brands that make the effort to connect with buyers on a personal level devote resources to open lines of communication, creativity, and a fun buying experience.
Brand Communities
Brand communities include every individual that has a relationship to the brand. They engage one another over things they have in common, and the brand plays a role in deepening connections among brand community members.
Creators
Creators (influencers) have a relatable, compelling voice, so much so that they curate communities on their own without any help from brands. These imaginative social media power users can inspire community members to take action, both in support of or in opposition to causes and brands.
Consumer Communities
A consumer community can be a small group of college friends, church Bible study, amateur tennis league, or members of a Facebook group. Wherever people congregate over shared values and goals, community exists.
Community Commerce either forms these communities, attracts existing consumer communities, or (most often) employs a combination of both.
What are the Key Components of Community Commerce?
Community Commerce is not any one marketing strategy or solution. But it does rely heavily on five core components:
Social Commerce
Creator Economy (Community Influencer Marketing)
Word-of-Mouth Marketing (WOMM)
Multi-Touch Attribution (Cross-Channel Attribution)
Decentralized Finance
Social Commerce
What is It?
Social commerce is online buying powered by virtual connectivity (social media), shoppable content, and frictionless eCommerce.
How Does It Work?
In social commerce, brands leverage social platforms to enhance the buying experience. These can include shoppable images on Google Shopping and Pinterest, or in-app purchases powered by Facebook and Instagram.
Thanks to social commerce, consumers can take action on exclusive offers or brand ambassador promotions in their feeds. Most of these social shops are free to use or require vendors to pay only a percentage on transactions.
Creator Economy
What is It?
The creator economy is a growing network of digital creators who use their content to attract engaged audiences.
How Does It Work?
While the term creator does not mean the same thing as influencer, affiliate, ambassador, etc., the Creator Economy does, in fact, include each of these people groups. It can also include social media users who do not curate public-facing accounts or large audiences but still consider themselves content creators.

Source: WARC/TikTok/Publicis Groupe
When building a Community Commerce strategy, it is essential that marketers identify which individuals within their community have influence and are both willing and able to function as brand community members and leaders.
Influencers Vs. Community Influencers
In some circles, the term "influencer" has become dirty word. Thanks to follower fraud and inauthentic brand endorsements, many view influencers as disingenuous, fake, or just another celebrity category.
But the reality is that many influencers come by their audiences and brand partnerships honestly. The best influencer partners only work with brands that align with their brand and offer value to their audience.
Screen capture from CIPIO Cindex Report
For this reason, many marketers refer to these honest influencers as community influencers. They are true community leaders, and even if they only have 10,000 followers, the vast majority of them are real and engaged (as opposed to bot accounts or mass followers).
And because that audience is real and engaged, authentic product placements inspire people to buy.
Ambassadors Vs. Affiliates Vs. Community Influencers
Thanks to the rapid growth of influencer marketing, these creators go by many names. Traditionally, affiliate partnerships are more open, while ambassador programs are more exclusive.
Some brands are unashamed to call their creator partners "influencers" or "community influencers." Others just call them "partners."
These terms, while carrying connotations and official definitions internally, all entail community leaders who seek to promote brands with which they align. The success of those partnerships depends greatly on the quality and connectedness that that influencer, ambassador, or affiliate maintains with their audience. The community piece will always be the core of any successful marketing strategy today.
Word-of-Mouth Marketing (WOMM)
What is It?
Word-of-mouth marketing (WOMM) is a chain reaction of consumers recommending brands and products.
How Does It Work?
It used to be that word-of-mouth was something you hoped for but could never really control. If your product was good, and you were lucky enough to get found, word-of-mouth would spread quickly.
Social networks, even online directories (like Yelp) and search engines (like Google), now allow brands and creators to generate word-of-mouth. Brands harness WOMM by knowing who is in their brand community and activating them as outspoken brand ambassadors.
What is a Brand Community?
A Brand Community is a group of people that have a relationship with or affinity to a brand.
These people include customers, employees, social followers, partners, complementary brand customers/followers, and more.
What is Community Influencer Marketing (CIM)?
Community Influencer Marketing (CIM) equips influential voices within a brand's community to become brand community leaders.
As brand community leaders, community influencers are in the best position to mobilize brand advocacy among members of their audience, thereby activating and expanding that brand's network of raving fans.
Influencers Vs Advocates
In any brand community, there will be far more non-influencers than actual influencers. As such, community influencers (those with verified influence within a community) are leaders, and everyone else is a brand advocate.
Community Commerce places enormous weight on community influencer relationships, because influencer excitement trickles down onto the rest of the brand community. If the brand is head coach of the brand community, then community influencers are the specialty coaches. If the brand is the bishop, community influencers are the priests.
Consumer communities can thrive with or without the brand, and the best influencers are community leaders in their own right. But understanding that brands can equip influencers as community leaders simplifies the Community Commerce process for all players involved.
Multi-touch Attribution (Cross-channel Attribution)
What is It?
Multi-Touch Attribution, or Cross-Channel Attribution, understands and credits every touchpoint (connection between brand and customer) that led a person to trust the brand enough to buy.
Source: Measured
How Does It Work?
Brand-community relationships take time to build and current marketing tools refer to critical milestones in a brand-customer relationship as touchpoints. In Community Commerce, marketers acknowledge that consumer trust requires multiple touchpoints and that the quality of each touchpoint can rise dramatically when nurturing brand communities.
Multi-touch attribution doesn't assume that the final touchpoint "did all the work" of converting a customer. Many touchpoints bring buyers to the moment of sale and make them believe that completing a purchase was the best decision they could make.
Community Commerce strives to acknowledge each of those special connection moments and then iterates those experiences to make connection easier and more satisfying.
Decentralized Finance (DeFi)
What is It?
Decentralized Finance is any transaction using currencies and payment types that bypass middleman organizations (banks, government agencies, etc.) for more efficient buying, selling, and transfers.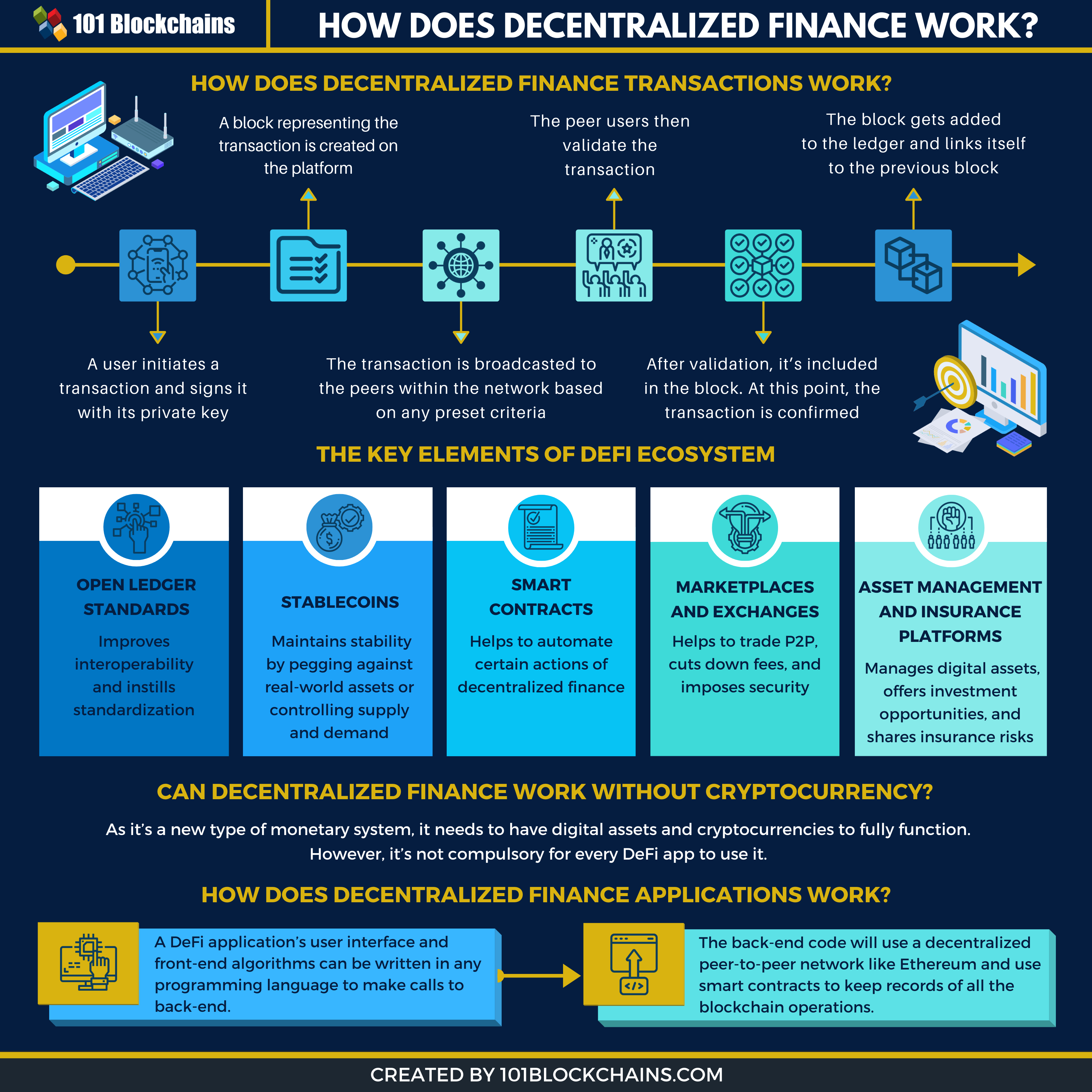 Source: 101BlockChains.com
How Does It Work?
Blockchain technology makes DeFi options possible. It exists apart from fiat currencies and allows people from all walks of life to transact with people and brands they trust without organizations they don't trust getting in the way.
And while many easy payment options online today do not require blockchain technology, the principle remains the same. Frictionless shopping enhances the buyer experience and can make people feel more connected. It's a new kind of commercial availability that removes barriers that used to make buying difficult.
Community Commerce Automation
Understanding that Community Commerce requires people to connect over brands and products, Community Commerce Automation is any solution that uncovers brand communities and activates those communities to grow a brand organically.
Automation takes tedious tasks and puts them on autopilot, and this allows marketers to think more strategically about the communities they uncover, create, and attract. CIPIO.ai is a Community Commerce Automation tool that specializes in community influencer and brand community marketing.
Brands can leverage CIPIO.ai to validate influence for a list of creator prospects, discover who has influence in their existing community, or automate the entire community commerce process.